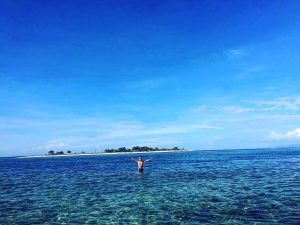 TOUR GILI KONDO
GILI KONDO is one of 33 small islands (gili) in eastern part of Lombok Island. From those many islands, there are only 3 islands serve as the best tourist destination. These ones called "Three Islands" or Tiga Pulau, i.e. Petagan, Bidara and Gili Kondo, located in the subdistrict Sambelia.
This small island located in the waters of District Sambelia (50km north of the city Selong) and can be reached via the beach in District Sambelia Transat (about 25 minutes) and the port of Heaven Labuhan Lombok (about 45 minutes). Although the black sand beach Transat but in earthen lamps and some surrounding white sandy beaches.
Gili Condo has a beautiful under water view which is not inferior to Gili Meno, Gili Air and Gili Trawangan.. If you want to snorkel in this area you will find different types of colorful fishes and spectacular coral reefs.
This tiny island can be reached via a wooden motor boat from the Sea Port of Kayangan at the east coast of Lombok Island, which took about an hour. While the mileage of Mataram, the capital of West Nusa Tenggara province to Port of Kayangan more than 100 kilometers, or about two hours travel by car.
The best time for traveling to Gili Kondo is in summer or the middle of the year. The waters are not too deep Gili Kondo, the water is clear, clean, and calm the waves.